What Hifi 5 stars award (sudah tidak diragukan lagi kualitas kejernihan ,open staging suara ,dan detail daripada produk2 Marant ini,dapatkan harga special ,sale bulan ini update per oktober 2014 sbb :
1.Marantz cd 6004 exdisplay ,stok terbatas =3,5jt net
2.Marantz Pm6004 brand new =4,250jt net
3.Marantz Cd 6005 brand new =call for price
4.Marantz pm6005 brand new=call for price
nb:semua bergaransi resmi dari distributor indonesia ,thanks
for fast response call /sms 081287720877 /08998899977
Spoiler for FOTOS: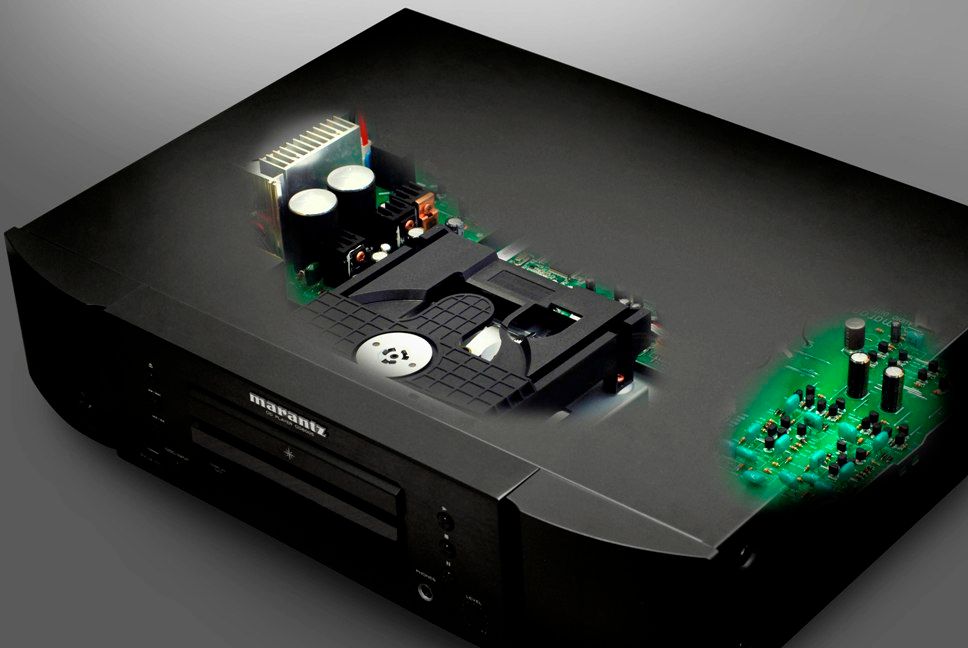 Spoiler for review dari what hifi: 
Link nya
http://www.whathifi.com/review/marantz-cd6005
Best CD player up to £500, Awards 2013. A fantastic player and immense value for money. Its predecessor was already a winner, and this has topped it. Write your own review Review Your opinion Tech specs Buy now FOR Great dynamics and detail Open and spacious delivery Superbly musical WAV-compatible USB AGAINST Nothing at this price The Marantz CD6005 is the best CD player we've heard at this price. But so was the CD6004, and the CD6003 before it. There's something admirable about a company that just won't quit, even after it's fought its way to the top. We've lost count of the gongs the Marantz 6000 series has scooped over the years, yet Marantz keeps tweaking. MORE: Awards 2013 The result: sprinkles of improvements on top of an already superb entry-level CD player – our current Award-winner. Marantz CD6005 Marantz CD6005 review: performance We get started with a spot of piano pounding from Rubén González, and the CD6005 responds with increased subtlety compared with its predecessor. There's a greater sense of space, on top of an already-open delivery. As hands make their way across the ivory, it's more obvious that each key is struck with varying strength. Marantz CD6005 Notes are more crisply drawn, with leading edges getting firmed up to clarify the textures of instruments. Greater definition, then, but it's never at the expense of smoothness. There's a lovely free-flowing character that's fluid but not overly rich. Combine that with good timing and you have a spirited performance, capable of following all the sonic contours of a track with precision and panache. It's also a really engaging performer. Dynamics are improved, and the 6005 expertly handles the challenge of Feeder's Piece By Piece. Peaks stretch that much further and troughs drop even lower: the opening drums fall off a cliff before a soaring guitar intervenes. What really struck us throughout our test was this CD player's musicality. We often found ourselves just enjoying the experience, abandoning our analyses (momentarily, you understand). It's as if the player takes itself out of the equation, leaving the listener with their music. Marantz CD6005 This is partly due to the Marantz's nicely judged presentation that balances refinement, richness and energy really well. It also helps that all the musical elements have been glued together to produce a hugely convincing, coherent sound. Be sure to fiddle with the player's sound mode. This turns off the display, the digital outputs, (or both) and improves sound quality. There's no stark contrast – unlike an old school bass boost – but listen for longer and you'll notice a more spacious, more subtle sound with both set to 'off'. A stunning performance, then, and we're not surprised to see the CD6004 overtaken. But how did Marantz manage that? By retuning the parts for the power supply and audio circuitry. That's how. Well alright, the USB port at the front now handles WAV and charges iPads properly, even in standby. Oh, and the display has an extra line of text. Marantz CD6005 Even the body looks the same (with the exception of shinier buttons) and mirrors the company's more expensive separates. At the back are identical connections: a set of analogue outputs next to digital coaxial and optical sockets. Marantz CD6005: verdict Marantz has played it a little safe. But you don't get this far ahead and throw everything out in the name of innovation. When you've nailed this corner of the market, you don't need to do much else. The best has just been made better. Again.
Marantz PM 6004  Link what Hifi award 5 stars http://www.whathifi.com/review/marantz-pm6004
Spoiler for specs: 
Marantz PM6004 Tested at £310 5
Stereo amplifier Product of the Year 2011. A big step-up from the older 6003 version, the PM6004 is very tough – if not impossible – to fault at this price Write your own review Review Your opinion Tech specs FOR Solidity and scale, but with precision and pace excellent transparency AGAINST Again, nothing of note It's a bold move to change a product that most people consider to be at the top of its game, but so competitive is the market these days that resting on one's laurels leaves one open to surprise challenges from eager rivals. That's why Marantz is launching its updated and upgraded 6000-series amplifier – and matching CD player. Tough competition to beat With the PM6004 amp there's an obvious goal: beat the Yamaha A-S500 that pipped its predecessor to our 'Best Stereo Amp up to £500' Award in 2010. To that end, Marantz has instigated a thorough overhaul, ditching the integrated circuits of the past in favour of separate preamp and power amp sections built entirely from discreet components. A thorough upgrade of the amp has achieved even more substantial improvements. It's that ability to cut right to the heart of a track that's most impressive. Play Nick Cave and Warren Ellis' soundtrack to the bleak movie The Road, and the longing and melancholy of the weeping strings is made abundantly clear, thanks to a degree of transparency and timing that's truly exceptional for this amount of money. Authority without oafishness A swap to Tchaikovsky's 1812 Overture brings with it a big change of pace and a massive challenge, but the PM6004 tackles it with supreme (and well-placed) confidence. Notes hit with punch and precision, but there's also weight and solidity here that rivals struggle to match. Even more impressive is the fact that this solidity combines with a lightness of foot that helps the amp dance from beat to beat without a hint of sluggishness. Do make sure you click the 'source direct' button to get the very best out of it, though. Of course, a component that is individually superb can flop when paired with another, but that's far from the case here. Connect the PM6004 with the Marantz CD6004 CD player and it's immediately clear that they've been tuned to complement each other. Works a treat with its partnering CD player While the PM6004 is flexible enough to be partnered with other, non-Marantz electronics, as a pair they pull in the same sonic direction, and the resulting presentation is as fast-paced, detailed and dynamic as you could possibly hope for from a hi-fi pairing at this end of the market. Add a pair of Tannoy Revolution DC6 T floorstanders (£800) and you'll be especially happy, but B&W's 685s (£380) or KEF's Q300s (£450), both standmounted designs, are also highly recommended partners for what is a simply superb, affordable, hi-fi separates system. Description When "What Hi-Fi Sound and Vision?" gave our PM6003 the "Best amplifier in its class" award, the performance bar was well and truly raised for its successor: the PM6004. Fortunately, Marantz design engineers enjoy nothing better than a real challenge. And they seized this upgrade opportunity to further improve this already excellent amplifier by refining the sound and optimising the balance from Bass to Mid to Highs for a performance full of harmony. Key Features 2x 45Watts (8 ohm) / 2x 60 Watts (4ohm) Current Feedback power amplifier circuit Cased Toroidal transformer High quality components Phono MM Tone control, Source direct Speaker A/B with goldplated speakerterminals Goldplated RCA inputs